This another post in a series of articles about email marketing strategies and best practices. See the first article here.
A few years ago, we didn't have to worry about designing email for mobile devices. With the current growth in mobile devices, from smartphones to ipads to a variety of tablets, mobile email design has become an imporant consideration if you want people to be able to read (and respond!) to your emails.
Outlined here are the critical elements in creating beautiful and functional designs, as well as some pitfalls that can affect performance.
Enlarge the fonts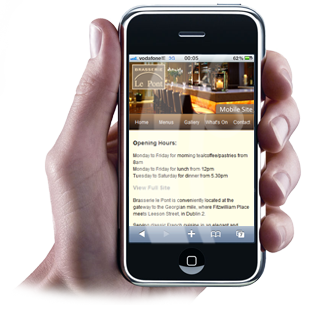 For mobile devices, fonts should be set larger than traditional emails or web fonts. To avoid illegible fonts, strive for a body copy font size of 14px minumum, and headlines should be at least 22px.
It's a matter of scale
While iOS devices zoom to fit your email to the width of the screen, most other mobile operating systems don't do this yet. Consider trimming your emails to 320-550px wide. . . or use this nifty CSS code in your header to make your emails "responsive" to the device they are received on.
Call to action
The most important part of any effective email design is a strong and prominent call to action. Put the call to action front and center, and don't be afraid to make the button big: it should be obvious and "tappable," with a minimum size of 44x44 pixels.
Cut the clutter
Screen real estate on a mobile device is valuable, so consider simplifying or eliminating complex headers, navigation bars, social sharing, and calls to action to keep your design clean and simple.
Using images on mobile devices
Every mobile device platform except iOS blocks email images by default, and provides a prompt for the user to turn on images. Use images sparingly, and carefully consider image size. This is another place where CSS-based responsive web design can be helpful.
Get the prunes
Oops! Wrong kind of prunes! I'm talking the verb form, as in prune less useful or relevant links, copy, and images. Be short and concise, making sure the copy you use is direct and friendly.
Layout
While newsletters are typically presented in two- or three-column format, we advocate single column templates for email. This approach makes your email content much more flexible for varying screen sizes, and will help increase legibility.
Be overtly obvious
It's often hard on those small screens to tell what's a "tappable" button what isn't. And those text links crunched up so closely together? Ick! Find creative ways to visually indicate that links and buttons are clickable. Try outlines, subtle shadows, a hand-drawn arrow, or other effects.
My finger isn't too small
On mobile devices, the finger replaces the mouse as our pointer. Keep this in mind... bigger is better. Increase font sizes, line spacing (often overlooked!), button sizes, and white space to give your design some breathing room and allow for my fat fingers.
Increase the contrast
Combining tiny screens with dialed-down brightness levels to conserve battery power, and you're left with poor contrast on many devices. Please, no more white text on grey backgrounds in your emails!
David Meerman Scott's Ultimate How-to Marketing Guide
Discover the keys to successful marketing online
New opportunities in online marketing are literally around every corner. How do you get a comprehensive view of the important ones and prioritize accordingly? This 34-page guide identifies nuggets of inspiration to drive success at your business.
Get David Meerman Scott's Marketing Guide today!