Do you love to craft? Or make all kinds of DIY projects? If you have an eye for design and love being creative, you may want to consider purchasing a Cricut machine! These nifty devices make it easy to create your own customizable products from home. With all the possibilities for what you can create, learning how to make money with a Cricut is quite simple!
Since it can be done from home and on your own schedule, this is an awesome side hustle for anyone from a college student to a stay-at-home mom. And by far, it's one of the most fun ways to make money in your spare time or create handmade projects for personal use!
What Is a Cricut Machine?
A Cricut machine is a must-have tool for crafters. The machine has revolutionized the craft scene with how much you can do with it and how quickly it works.
A Cricut is an electronic cutting machine. Depending on your selected settings, you can etch, draw, cut, or trace onto various surfaces, including vinyl, paper, iron-on vinyl, cardstock, fabric, leather, and balsa wood.
First, you can use a template or create your own designs in their software program, Cricut Design Space, and then use a USB or Bluetooth to connect your device to the Cricut machine. The machine will then create the design on your surface of choice. It's extremely precise and quick in its cutting.
There are a few different types of Cricut machines and many accessories that you can buy. The most popular for those getting started is the Cricut Explore 3; it's the mid-level option that allows you to do most projects.
However, if you want to work with materials such as fabric, leather, and wood, upgrading to the Cricut Maker may be a better option for you.
When you first start, buying their bundles is a good idea. This gives you the machine and additional tools, blades, and even craft materials, so you already have everything you need to get started.
Selling Cricut Projects on Etsy
Cricut exploded alongside the rise of Etsy. So there are many handmade goods on Etsy made using Cricut machines. While Cricut products are popular on Etsy, it also means lots of competition. But there are a few ways to make money and stand out on Etsy!
Sell Customizable Products
One of the main draws for buying from Cricut crafters is that they can easily personalize every order. People would rather buy a water bottle they can personalize with their name on it than a plain one. Otherwise, they would just go to Walmart or Amazon to get one!
Etsy has tons of ways you can customize a project. They make it easy for sellers to cater to their customers with requests.
Find a Niche
It can take a while to build an audience, but when you do, they want to know exactly what to expect from you. Since there are so many different items you can make from a Cricut machine, it's best to narrow down your focus. This makes it easy to advertise and sell your products.
For instance, you could focus on weddings. You can make customizable wedding gifts, bridesmaid gifts, signs, decor, cake toppers, and invitations. Other great niches include baby gear, home decor, birthday parties, signs, and anything else that sparks your inspiration.
Offer Free Shipping
Thanks to websites like Amazon, users expect immediate and cheap shipping. Seeing an additional $10 fee at checkout for shipping is enough to have someone exit the page instead of purchasing.
Etsy allows users to filter for free shipping, making it easy to dismiss those who don't offer the service. However, this doesn't mean you have to swallow up the cost yourself! Simply include shipping in your overall purchase price so viewers know exactly what to expect at checkout.
Upload Your Listings in Full
When making the listing, you want to fill out as much information as possible. It can take time to input everything in all the fields, but it's well worth the investment.
Consider the terms people use in the search box to find these items – these are known as keywords. Make sure your title and description are as detailed as possible and include keywords. This ensures your post has a better chance of coming up when people search for listings.
More Etsy Shop Tips to Make Money with a Cricut
Since you're selling a physical product, consider the costs of supplies (t-shirts, mugs, bags, etc.), crafting materials (vinyl, glitter paper, etc.), and shipping when pricing your product. You want to make sure you're still earning a decent profit!
Etsy also takes fees for using their platform. Each listing costs $0.20 (which needs to be renewed every four months). They also take a 6.5% transaction fee for the order total and a separate processing fee that depends on the payment type. These fees can add up!
You can try listing your items in other places to combat these fees. Social media, your own blog, Facebook marketplace, and craft fairs can also be excellent platforms to sell your Cricut crafts.
Is It Legal to Sell Products You Make with a Cricut?
Yes! They know how many crafters make money using their product, and they welcome it in their Angel Policy. However, there are some stipulations in Cricut's Angel Policy that you'll need to read before you start selling products.
A couple of important details are you can't make more than 10,000 projects annually from the machine, and you can't sell anything that is copyrighted and doesn't belong to you. This includes licensed content from Disney, Hello Kitty, Marvel, Martha Stewart, and others. If there are areas in their legal policy that you don't fully understand, I highly suggest obtaining legal advice from a lawyer.
Cricut Money-Making Ideas
Now that you know how to make money with a Cricut machine, what will you sell? You can print on all kinds of surfaces, making your options nearly limitless. Here are some of the top Cricut crafts to sell using a Cricut machine to inspire your crafting.
1. Party Decorations
From birthday parties to gender reveal gatherings and weddings, you can make themed party decorations like banners, signs, cards, paper cups, bags, and more.
2. Greeting Cards
People love homemade greeting cards. Thanks to Cricut, you can make interesting cards, including ones with pop-outs, glitter, and metallic vinyl.
3. Car Decals
Print on vinyl to make car decals for businesses and car owners. This could include funny bumper stickers, logos, baby on board signs, family members, etc.
4. Wooden Signs
Cricut makes it easy to create and cut out your own stencils. With these, you can easily hand paint wooden signs with funny or cute sayings for home or garden décor.
5. Mugs
Customizable mugs are a gift that's perfect for any occasion. Cricut actually has a mug printing accessory for those who specialize in making mugs for money with their machine.
6. Keychains
Keychains are a simple and easy gift to sell. You can make your own keychains using Cricut's special blades for leather, wood, fabric, or felt.
7. Stickers
For those who love designing pictures, you can make your own stickers. These are easy to sell individually, or you can make them for businesses.
8. Tumblers and Water Bottles
By far, some of the most popular Cricut items on Etsy are tumblers and water bottles customized with names and cool sayings. Print them on popular brands like Starbucks tumblers or Hydro Flasks.
9. Personalized Stationery
You can make all kinds of beautiful stationery, including journals, address envelopes, and invitations. These are great for weddings and events, as well as teacher gifts.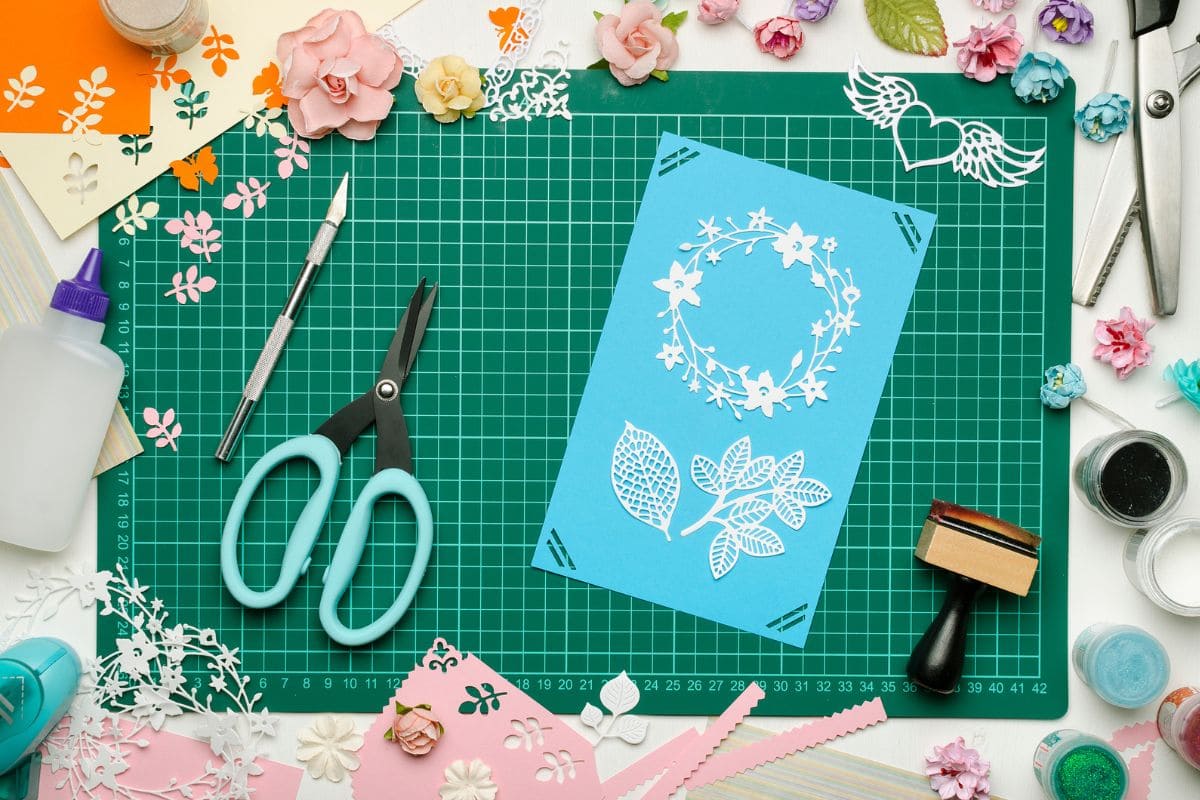 10. Christmas Ornaments
Christmas is one of the best times to bring out the Cricut machine. You can craft all kinds of holiday-themed items to make money with a Cricut, including personal ornaments.
11. Baby Onesies
The baby market is another huge money maker for those with a Cricut machine. Make onesies full of cute sayings and themes for new parents and gifts.
12. T-Shirts
Custom t-shirts are super easy to design and make with the Cricut. Make t-shirts with fun sayings for events like bachelorette parties and cute images for everyday wear.
13. Tote Bags
The tote bag craze is very much here! Like other fabrics, tote bags are simple to print using the Cricut iron-on transfers or transfusible ink.
14. Pillows
Extend the fabric printing to pillows too! These are great for printing fun holiday designs or sayings that work year-round.
15. Wine Glasses
Wine glasses are another popular gift for friends or special events like anniversaries and weddings. You can easily transfer elegant or funny designs to wine glasses or tumblers with premium vinyl.
16. Gift Tags
Gift tags are simple and pretty affordable to make. You only need good cardstock and a cool design for the Cricut to cut out. Sell them in bundles on Etsy for Christmas and birthdays!
17. Magnets
Another small and fun money-making Cricut idea is to make customizable magnets. You can buy magnetic sheets topped with vinyl for quick crafting.
18. Bookmarks
For bookworms, nothing is more special than a neat bookmark in the theme of their favorite books. Most classics no longer fall under copyright law, making them open game for designs and sayings!
19. Hats
Custom hats can be a little tricky to make, but with the right hand, you can use heat transfer and an iron to make cool hats for your customers.
20. Towels
Iron-on stunning holiday designs or food-themed sayings for kitchen towels. You can also make towels with kids in mind for the bathroom or other fun themes.
21. Vases and Pots
Plant owners need plenty of pots. You can cater to the audience by creating cute pots or ones with plant puns for their houseplants. Then, they can put their flowers in vases with vinyl cut by a Cricut machine.
22. Leather Earrings
Whether you want to use real or vegan leather, you can cut gorgeous leaves or geometric shapes with your Cricut machine. Once you have your cutouts, punch a small hole, thread your hardware, and tighten for lightweight and beautiful earrings.
Conclusion
As you can see, the only limit to making money with a Cricut is your imagination! Whether you want to start a side hustle or grow into a full-time business, a Cricut machine gives you lots of options. And be sure to read this interview with Melanie of Simple Made Pretty. She chronicles how she used her Cricut machine to start a business selling one-of-a-kind greeting cards on Etsy. Give it a try and see what you come up with.
If you'd like to start a Cricut craft business, check out this starter pack to get started.