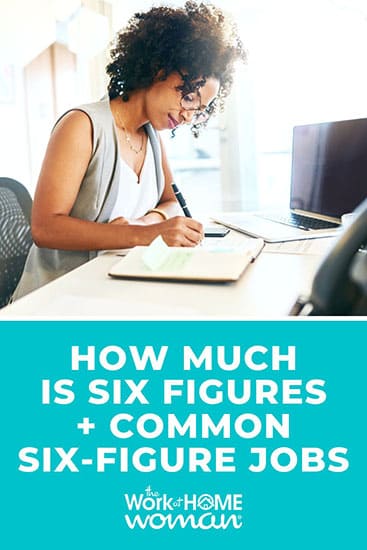 A six-figure job can sound like the ultimate career when it comes to providing for your family. What's even better is being able to work from home and make that type of money.
When it comes to inflation, the high cost of living in certain regions, and higher mortgage interest rates, you may be wondering how far a six-figure salary might even stretch.
In addition, many six-figure jobs will require an investment in your education, such as a degree or certification.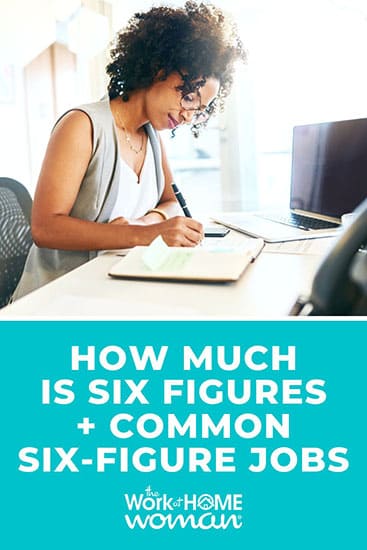 How Much is Six Figures?
So exactly how much is six figures? A six-figure salary represents any six-digit number, ranging from $100,000 to $999,999. As you can see, this is a huge range which means all six-figure earners are not making the same amount nor living similar lifestyles as a result.
But for clarity, once you reach an income level of at least $100,000, you can call yourself a six-figure earner. Keep in mind this is gross income before taxes and expenses (if you're self-employed since business owners can deduct certain expenses from their taxes). This means you'll be earning at least $8,333 per month.
Speaking of taxes, you may not actually bring home 6-figures even if your gross income is $100,000 or more due to taxes. Each state has its own tax rates, which often increase based on your income level.
According to ADP's Salary Paycheck Calculator, someone making a $100,000 salary or $8,333 per month will actually bring home around $6,465.16 per month or $77,581.92 as an annual salary after taxes and social security. If you're receiving workplace benefits such as a 401(k) plan and health insurance, your take-home pay will be even lower.
Six figures is still a great income benchmark for many people, and there are several work-from-home jobs that pay a six-figure or even a seven-figure salary. Plus, with a high-paying work-from-home job, you can continually advance your skills to get raises and promotions as well. 
Common Six-Figure Jobs
When you think of typical six-figure jobs, like a lawyer, actor, or athlete may come to mind. However, celebrities with eight-figure salaries are not a realistic ideal for most people.
CEOs, investment bankers, pilots, and doctors also tend to have very high salaries. Many of these jobs may pay good money and help you boost your net worth, but they also require years of education, long hours, and a lot of student loan debt.
If you're looking to work from home and avoid getting several degrees or certifications, there are still options to earn 6-figures or more per year.
Below are some of the best high-income jobs to consider even if you don't have a master's degree.
Web Developer – $79,890+
Web developers create and maintain websites. They also help improve a website's performance and capacity. For example, if a website is taking too long to load, a web developer can help troubleshoot the issue and fix it.
Developers also write code for a website using HTML, and some may even integrate graphics, audio, and video. To become a developer, you'll need to have an interest in creating and managing websites to help them work better.
According to the Bureau of Labor Statistics, web developers earn an average income of just under $80,000 per year, but many experienced developers earn over six figures. Many jobs require a bachelor's degree or equivalent hands-on job experience.
Since you work primarily on the computer, this is an excellent high-paying work-from-home job with lots of demand. FlexJobs regularly promotes several part-time and full-time web developer positions. 
Project Manager – $136,506
Project managers oversee staff and lead a team by helping manage the company's products or services. There are many different types of project manager roles. Some may be in marketing, communications, or advertising, and others may be in software, healthcare, or commercial construction.
Typically, you'll need a bachelor's degree in a related field and a few years of work experience to demonstrate your leadership potential. Project managers may have to spend some time in the field, checking up on different projects, but you can likely do most or even all of your job remotely online.
ZipRecruiter lists tons of six-figure project manager roles in various fields.
Freelance Writer – $20,000-$140,000
Freelance writers produce content for the web or print in the form of articles, news stories, blog posts, marketing copy, white papers, and so on. There are tons of freelance writing opportunities available, and you don't need a degree or any specific certifications.
Having some writing experience and the ability to learn quickly is always beneficial. Getting started as a freelance writer is pretty easy too. You just need to build a writer's portfolio by submitting a few pieces to publish online or in print. Some writers submit a few assignments for free to establish samples they can use to pitch for paying jobs.
According to Ziprecruiter, freelance writers earn around $33 per hour on average and $80 per hour on the high end for more experienced writers working on more complex topics. One of the best things about freelance writing is that you can choose your own clients and how much you charge.
Sites like Problogger, MediaBistro, and Upwork are great resources for finding writing leads. Also, keep in mind that you can send emails to bloggers you know or local businesses and ask if they need help adding content to their platforms. 
Senior Sales Executive – $135,228
Senior sales executives are the most experienced members of a sales team. They help monitor sales goals and manage the sales team as well as certain accounts. If you're comfortable talking to people and have some sales skills, you don't need to be a senior sales executive to earn six figures per year.
If a good portion of your income comes from commission, you can use your sales skills to increase your income that way. Your income may vary from month to month, and you'll still need to put in lots of hard work.
Here are some additional home-based sales positions to consider that can generate a six-figure income.
Joining a direct sales team for a high-ticket product
Insurance sales (must become a licensed insurance agent in your state, but you can work with several insurance companies)
Real estate sales (will need a real estate license)
Software and tech sales
Medtech sales
Psychologist/Therapist – $93,992+
Most experienced psychologists and therapists earn six figures when working full-time. You'll need a license to offer mental health services and a bachelor's degree. Once licensed, you can provide virtual counseling sessions with clients from the comfort of your own home.
This is a flexible career where you can set your own service rates if you choose to work independently. Registering for Psychology Today and similar databases will help clients find you and inquire about your services.
You can also consider working with a therapy and mental health texting app, such as Better Help, right from home. Better Help provides therapist employees with a $650 health insurance stipend, bonuses and incentives, and access to more than 390 continuing education courses. 
Recruiter/HR Professional – $93,000+
Recruiters work in the Human Resources (HR) department and are responsible for finding qualified candidates to fill open positions. Recruiters are often the first point of contact for a candidate and handle the screening process, including sending out applications and handling follow-ups.
For this type of job, you'll need excellent communication skills, interpersonal skills, and a bachelor's degree in HR or a similar field. HR is a great field to get promoted in, and once you have experience, you can seek out advanced roles such as that of an HR manager.
Mid- to large-sized companies need human resources professionals and often actively hire for these roles. While some positions require you to come into the office, others will allow you to work remotely so long as you live nearby. 
Conclusion
Finding the right 6-figure income work-from-home job for you depends a lot on your interests and skill level. As you can see, you don't have to be the CEO of Google, Facebook, or Amazon to make six figures or more. Most six-figure jobs require a college degree, but don't let this hold you back. Some positions may hire someone who can demonstrate their experience, and you can also consider self-employment or offering your services as a freelancer if you're willing to find your own clients.
With any job, it's wise to determine how much your take-home pay will be after taxes and benefits. A 6-figure salary can also be earned by combining multiple income streams or generating passive income through investing or an online business.