Frugal living doesn't have to mean pinching pennies or omitting fun from your budget. There are so many ways to save money, whether that's cutting down what you're already spending or making new decisions that will help you in the long run. Today, I've compiled some of the best frugal living tips that can help you trim expenses in all aspects of your life.
You'll find some unusual frugal tips that may have never crossed your mind, as well as plenty of small changes you can make to your daily life that have a long-lasting impact. Let's dive in!
Frugal Living Tips to Cut Down on Groceries
1. Make a Grocery List
Going into the grocery store with a plan can help you cut down expenses exponentially. When you don't know exactly what you need, you end up leaving the store with too much. You also find yourself wandering down every aisle rather than just the areas you need, grabbing things as you go. Making a plan and meal planning cuts down on those impulse buys.
2. Meal Prep
Meal prepping involves making a large batch of food to eat during the week. This can include just lunches for work, all your dinners, or a few meals here and there. If you don't tire of eating the same thing, cut down on the need to buy extra ingredients by meal prepping some meals. It also saves you tons of time during the week!
3. Buy Generic Brands
Name-brand foods don't necessarily mean better quality foods. Often, it's the exact same food, just with a different label on it! When buying canned and prepackaged foods, keep an eye out for store-brand options. These are always priced a little cheaper, and the savings add up on the total grocery bill.
4. Shop Around
Don't just buy everything at one store when you grocery shop. Find out which stores have the best prices for different items. You may prefer to buy your household goods like paper towels at Costco, your canned and frozen items from Walmart, and your produce from a local grocery store. Make the occasional stop at these other stores with a list to source the best bang for your buck.
5. Try Price Matching
Sometimes, you don't even have to go to other grocery stores to get a better deal. Price matching is when you show a store the competitor's price and ask them to meet it. Not all stores do this, but many do. To price match, bring along flyers from other stores or use an app such as Flipp to source the best-advertised price.
6. Scan Receipts
After you're done shopping, you can use a cashback app to earn back some of what you just spent. All you have to do is scan a picture of your receipt at qualifying stores. Rakuten is one of the best options for this for in-store shopping (and has cashback for online purchases too!) Rakuten can be used at major retailers like Target and Instacart.
7. Pack a Lunch
This is one of the simplest frugal tips but remains one of the most important ones. Food takes a huge chunk out of anyone's budget. And when you add on restaurants, morning Starbucks, and quick snacks, it adds up. Make an effort to bring lunch (or other meals) to work with you, so you don't need to eat out. If you have a hard time doing it beforehand, try to prepare the night before or use up leftovers so you can just grab them and go.
8. Buy in Bulk
At first, buying in bulk may seem more expensive since the price tag is initially larger. But when you break down the cost per item, it's much more affordable in the long run. Aim to buy in bulk for items you use frequently, and you know you'll eat before the expiration date. The annual membership fees for places like Sam's Club or Costco are well worth the savings.
9. Buy in Season
We're lucky to live in a world where we can buy any kind of fruit at any time of year. But when you buy those out-of-season fruits, you're paying for the price of heavy import fees and low supply. Instead, try to eat with the season. When fruits and veggies are on sale, buy in bulk and try to freeze (or can, if you have the knack for it) the extras for later use.
10. Start a Garden
Having your own garden can allow you to reap tons of vegetables, fruits, and herbs. While slow to grow at first, you'll have more than you know what to do with during the harvest season. Even those with no outdoor space can still grow herbs and microgreens indoors, saving you the need to buy those from the grocery store.
Frugal Tips for Saving Money While Shopping
11. Use Coupons for Online Shopping
If you do any kind of online shopping, whether it's household essentials on Amazon or Christmas shopping for the kids, you need to have a coupon extension. Now, you can shop through sites such as Rakuten or Honey, which automatically apply coupons at the checkout. It saves time searching for coupons as well as saves you money! The website also earns a small commission for the sale and shares part of it with you through cashback or gift cards.
12. Unsubscribe from Marketing Emails
This is one of the best frugal tips for saving money because it takes minimal work but can save you big time. You won't be tempted to shop a sale if you don't know it's happening. Chances are, you have a pretty big influx of emails coming from your favorite brands on a regular basis. Resist the urge to shop by scrolling to the bottom of these emails and hitting unsubscribe. This greatly reduces any online impulse spending.
13. Ask for Hand Me Downs
If you have kids, you'll find yourself going through clothes faster than you can keep up with their growing bodies. It can quickly add up, especially when they're tough on their clothes. Ask for hand-me-downs from friends, family, neighbors, and others within the community. When it's time, and your kids grow out of the clothes, you can return the favor to another frugal person!
14. Buy Second-Hand Clothes
For yourself, try to buy used second-hand clothes when you can. The thrift store can have tons of great gently used items that need a new home. You can even shop online for curated items on thredUP or Depop. You'll find high-quality items from brands like Lululemon or Revolve at a much lower price! Plus, you can feel good about doing your part in reducing clothing waste.
15. Earn Free Gift Cards
I already hinted at this above, but you can earn free gift cards through many different sites and apps. In some cases, it comes from shopping using their website and affiliate links and getting some of the commission. Some apps also allow you to earn money from completing small activities like answering surveys, watching videos, or even playing games. You can even get free gift cards for walking!
16. Shop at the Dollar Store
Every couple of months, it's a great idea to head to the dollar store to stock up on some supplies. Dollar stores have a great selection of party supplies, gift wrapping, kitchenware, storage supplies, hardware, and even food. It's easy to get some useful items for around the house at a very low cost.
17. Shop on Facebook Marketplace
If you need to buy something, see if you can buy it used first. People all over utilize Facebook Marketplace, eBay, or Craigslist to sell the items they no longer need. This can range from clothing and sports equipment to furniture and plants. Even if you have a very specific item in mind, you can probably find it for a low price in your local area.
18. Cancel Unused Subscriptions
Subscription boxes can be fun but have a way of sneaking up on you. You're automatically charged for items that you probably don't need or could get for a lower price nearby. Subscription boxes can be anything, from weekly food boxes to kitty litter. First, ask yourself if you really need the items, and if you do, save on shipping and automatic payments by canceling the subscription to find it elsewhere.
19. Get a Cashback Credit Card
If you're spending money, you might as well get a little bonus for it. Cashback credit cards will typically reward you 1.5-2% for your spending. You can use this toward other expenses when you get the money back. Alternatively, other credit cards have different reward options, such as points (to redeem for items) or miles for traveling. Find what works for your financial goals, and use the credit card responsibly to earn the most out of it.
20. Join Loyalty Programs
Most major stores and brands offer some kind of loyalty or rewards program. This can include extra discounts or points you can use for free products. If you shop somewhere often, whether that's a grocery store or a clothing retailer, join their loyalty program to get the most out of your shopping experience there. You can even use an app like Ibotta to link your loyalty programs and earn extra cashback.
Frugal Living Tips for Changing Your Finances
21. Automate Savings
It can be challenging to save money while living frugally, but putting a little bit aside each paycheck to save for your financial goals or emergencies is essential. One of the best ways to save is by setting up an automatic payment from your checking account to your savings account. Any amount works, even as low as $20 a month. Time it, so it transfers for each paycheck. It's like you never had the money to spend in the first place, and you won't miss it in your budget.
22. Create a Budget
When living frugally, the single most important thing to do is learn to change your money-spending habits. You need to know exactly how much money is coming in, what your main expenses are, and where you have room for extra purchases. When making a budget, try to account for every type of expense you may encounter in a month. After listing a rough estimate, see if there are any areas where you can cut down.
23. Use an Expense Tracker
Alongside budgeting, it's a good idea to use an expense tracker to list every single expense during the month. This allows you to keep track of your spending and ensure you're staying within your budget. You'll know exactly when you need to cut back and also when you still have some wiggle room.
24. Set Up a Sinking Fund
Sinking funds are something everyone should have in addition to their other savings and checking accounts. This account is designed solely for short-term and unexpected savings. However, it should not be confused with an emergency account. Contribute a little bit each month to a sinking fund for things like Christmas gifts, birthday presents, field trip money for the kids, travel funds, car repairs and maintenance, and more.
25. Participate in a Money Saving Challenge
While it's always a good idea to see what you can cut from your budget, sometimes a money-saving challenge can help you get a little bit of extra cash in a short amount of time. For instance, you can make a goal to save an extra $200 in one month and detail all the possible ways you can manage it. Another great one is the $5 challenge, where every time you get a $5 bill, you save it rather than spend it. At the end of the year, you'll have a nice little nest egg.
26. Refinance Student Loans
Student loans can weigh heavily on your finances for decades. If you qualify for a lower interest rate, you can lower your monthly payments, which can have a substantial overall impact. You can even use a website like Juno, which makes it easy to refinance private student loans by doing the work for you.
27. Match Your Employer's 401(k)
If you're lucky enough to have a 401(k) from your employer, take advantage of any contributions from your employer. This means that for however much you put in, they will also put some in. This can be dollar-for-dollar, up to a certain percentage, and more. Since your contributions are taken automatically from your paycheck, the money won't be missed. So go ahead and claim that free retirement from your employer and maximize the contribution.
28. Start an Emergency Fund
Every person, especially those with kids, should have an emergency fund. It's essential to have, no matter your financial position. Contribute a little each month to slowly build a fund to access in case of emergencies, such as a loss of job/income, medical emergencies, emergency home repairs, and more. Typically 3-6 months of income is a good amount to strive toward.
29. Cut Banking Fees
Many banks will charge you just for having an account. It will come directly out of your checking account, so you may not even notice! This can be an average of $15 a month. Luckily, many banks and accounts don't charge a fee or allow you to avoid the fee with a minimum balance. Do some research and switch accounts if necessary, so you're not wasting this monthly money!
30. Use Cash More Often
Sometimes it's challenging to keep track of your spending when you're using a credit card. Using cash for your payments lets you know exactly how much you're spending and what you have left. Some people also create their budget using cash envelopes by separating their monthly expenses into different envelopes and using that for all their purchases.
31. Prioritize High-Interest Debt
When you have multiple types of debt, always prioritize high-interest debt. This is typically considered anything higher than a mortgage or student loan. While you can slowly pay off low-interest debt while working toward other financial goals, you lose tons of money every time you have to pay the high-interest debt, so it's a good idea to get rid of it as soon as possible.
32. Invest Your Money
If you have money sitting in a savings account, invest it! This money could grow and earn you income thanks to dividends and capital gains. Find the best investment plan that works for your level of risk, but don't just let the money sit there. In fact, you're losing money through inflation without investing it! When investing, don't forget to consider the fees and costs of certain investments, such as mutual funds.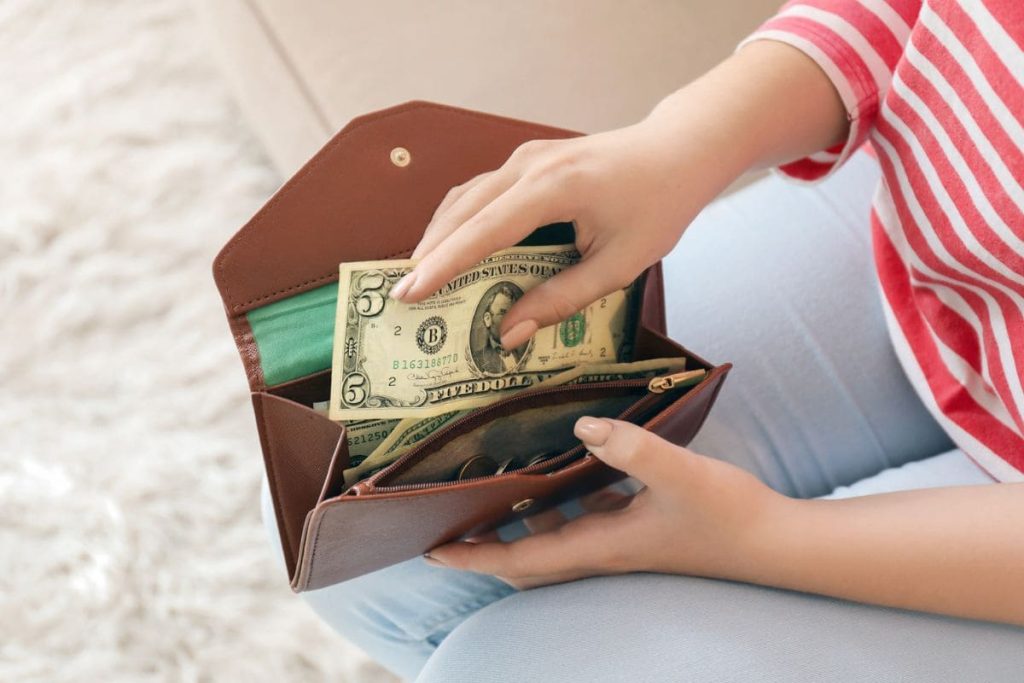 Frugal Tips for Saving Money While Driving
33. Use Car-Sharing Programs
If you live in a larger city, you may have access to car-sharing programs. These are cars you can rent ahead of time or charge per use. Everyone who is part of the car-sharing program has access to the vehicle. This is an excellent idea if you use public transportation and don't need a car for everyday use but like to use one occasionally. You'll save tons in the long run.
34. Try Carpooling
Connect with people heading in the same direction to carpool. Not only does this save you money on gas, but it's also great for the environment. Carpooling can include dropping off kids at school, heading to work, attending the same event, after-school, or work activities, and more.
35. Buy a Fuel-Efficient Car
While buying a new car can be a significant upfront purchase, it might be time to swap your car for an upgrade. Look for a used car that relies on less gas, like an electric or hybrid. The daily costs of vehicles are huge, and minimizing that gas footprint can help put more money in your wallet.
36. Increase Your Insurance Deductible
The lower the deductible, the more expensive your car insurance will be. This is a frugal living tip you only want to include if you can afford the more expensive deductible should something happen. As our cars age, you may not need the same coverage and deductible as you once did. It's important to review this every year when renewing your car insurance (or any other insurance for that matter).
37. Opt-In for Yearly Insurance Premiums
Once again, a large upfront payment saves you in the long run. If you can afford to pay your insurance premiums all at once rather than the monthly payment, insurers will often give you a discount. Sometimes changing your mindset from immediate to long-term savings can have the largest impact.
Daily Frugality Tips
38. Find Frugal-Friendly Entertainment
Living frugally and on a budget doesn't mean you can't still have fun. Make sure to allocate some room in the budget for budget-friendly activities like going to the movies or buying reusable toys and activities like board games. This way, you won't begin to resent your budget and situation.
Also, keep an eye out for free entertainment. This can include local festivals, trips to the beach, visiting the local library, community-sponsored workshops, crafting, and more.
39. Negotiate Your Bills
You can reduce the expenses of things you're already paying for by calling your service providers and negotiating lower bills. This includes cable, internet, phone, utilities, insurance, and more. It's a good idea to do this twice a year. Bills can unexpectedly go up, and new deals may arise that you can take advantage of.
40. Cut Cable
Now, there are many streaming options that give you access to more content at your convenience for cheaper. Cable is an easy expense to cut, even when it's bundled with other home services like the internet. You can also use tools such as Apple TV or Google TV to search and watch all your streaming platforms in one place.
41. Get a Family Streaming Account
There are tons of streaming platforms, from TV shows and movies to music, and it can get pricey to have all of them. Instead, coordinate with friends and family to pay for one streaming service each and then share the password. This works great for Hulu, Netflix, Spotify, or Amazon Prime. Most have systems in place to allow for multiple users and streamers, too, including family plans.
42. Join a Family Phone Plan
Once again, try to round up your friends and family to see if you can join a family plan for your phone. Most providers offer a discount that grows with the more family members you include on the plan. The monthly savings can add up for all of you!
43. Learn to DIY
This is an unusual frugal tip, but a good one nonetheless! You can learn how to do anything yourself thanks to YouTube and the internet. Do you need to fix the toilet? Give yourself a gel manicure? Start a side hustle making Canva templates? There are so many wonderful content creators out there who have shared their expert knowledge entirely for free. You can find tutorials for everything, which really helps a frugal lifestyle.
44. Collect Bottles
If you have the room for it, collect your bottles and other income-earning recyclables. Every time you have enough, bring them in for money. This is a great way to save for something extra outside your budget or to top up your sinking fund for upcoming events like Christmas or a vacation.
45. Participate in Service Swaps
Do you have a skill someone else might find valuable? Ask for assistance with something and offer your expertise as payment. This can mean trading a haircut for help installing blinds or offering social media help in exchange for help tailoring some clothes. Anything! It can even be as simple as asking someone to babysit your children in exchange for babysitting their kids at a later date.
46. Cut Energy Bills
Monthly bills can hurt the wallet, especially when winter hits. There are plenty of ways to help lower your energy bill. Stop drafts from coming in by resealing windows and doors with new weatherstripping. Change your furnace filter regularly. Lower your thermostat by a couple of degrees. Clean air vents and keep them unobstructed. Only run the dryer when full or hang clothes to dry. Daily frugal living can even mean putting on a sweater rather than turning up the thermostat!
47. Cancel Your Gym Membership
This one seems to get a lot of people. While some people may use their gym membership daily, others may only use it a couple of times a month. Instead, look into alternative options. See if YouTube videos and at-home workouts can fulfill the same workout needs. Perhaps buying drop-ins or opting for a membership like ClassPass will work better for you.
48. Cut Your Water Bill
Like your heating bill, you can do a few things to reduce your water use. Install aerators on your faucet, change your showerheads to low flow, or take shorter showers. Only run the washing machine and dishwasher when full, and turn off the tap while brushing your teeth. Set a timer to water the garden and lawn in the morning. 
49. Utilize Student Services
When students are still learning their trades, you can often get the service for a discount. For example, hairdressing schools are always looking for people for their students to practice on. And don't worry! A professional instructor is always there for assistance to make sure your haircut goes as planned.
Conclusion: Frugal Living Tips
As you can see, there are many ways you can make small changes that have a large impact. Whether it's downloading apps, changing your mindset, adjusting priorities, or just planning to trim down the budget, being frugal has never been so easy.
Let me know which one of these frugal living tips and hacks you find the most helpful!